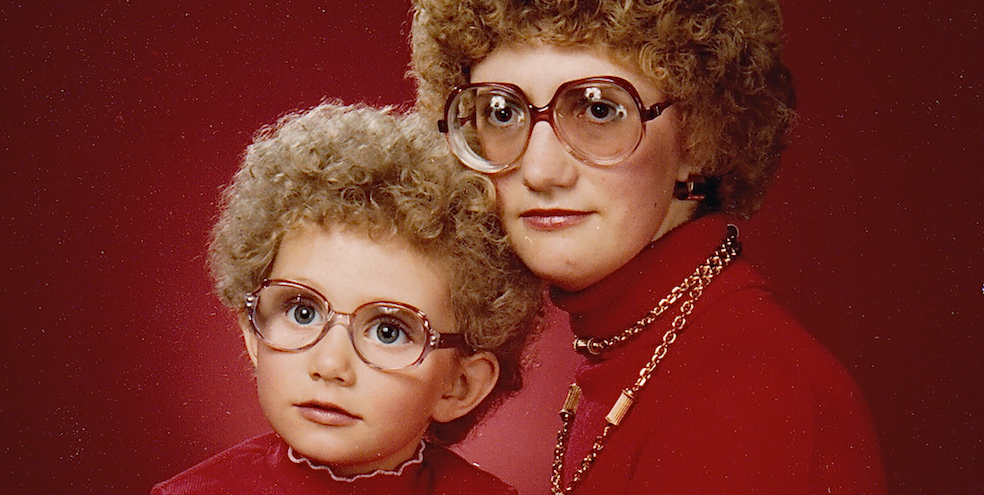 You Can Now Buy An NFT of These Iconic Awkward Family Photos
Growing up, I had an irrational fear of becoming a meme. This was in the
Growing up, I had an irrational fear of becoming a meme. This was in the 2000s—before the word "meme" had truly entered the popular lexicon of the internet-minded, before the "internet-minded" meant everyone.
My older sister was an award-winning teenage photographer, and I was her main subject. For a time, I refused to pose because I was afraid of what would happen once she posted the photos online. I feared the snowball effect of an image on the internet, how it was uncontrollable by design. I had visions of people in far-off corners of the world laughing at a photo of me looking weird, in the prime of my preteen pubescent hellscape, and sharing that photo into oblivion.
Now, many years later, I have yet to become a meme or go viral. But the people of Awkward Family Photos? They've conquered my preteen fear. Their gloriously awkward photos have gone viral, entered the archive of the collective digital mind—and in the process, they've become legends of internet lore.
The website that became a home for these snapshots, AwkwardFamilyPhotos.com, turns twelve this week. To celebrate the anniversary, site founders Mike Bender and Doug Chernack are bringing the project firmly into the 2021 internet world with "Super Awkward Drop," an NFT collection of their top ten most viral family photos. The auction takes place on Foundation, beginning today at 3 p.m. PT and running for 24 hours.
Though the ever-expanding sea of NFTs can begin to feel absurd, the Awkward Family Photos team brings a sense of heart to the venture. All ten featured families are involved in the process, will receive 50% of the proceeds, and have shared the backstories to these images, which give glimpses into the lives of their families, and take us back to a bygone web era.
Bender and Chernack founded the site back in 2009, when the internet still felt like a place of some novelty and levity; when it wasn't so hard to break through our web-jaded exteriors and make someone smile. "Computer rooms" were still a thing. Not everyone was on Facebook yet, and if you were, you were posting Photo Booth photos or "muploads" and probably having full-on public conversations with friends on each other's "walls." Maybe you shared viral videos like "David After Dentist" and the "Forever" wedding entrance dance via Hotmail.
And perhaps, in your web-surfing (when surfing the web was still a leisure activity), you came across some of these Awkward Family Photos. The site—plus, later, the AFP Instagram—has operated as a community of user-submitted photos that range from the serendipitously hilarious to the beautifully bizarre.
Bender says his own awkward family photo sparked the idea for the site. He was on a ski trip for his father's fiftieth birthday. "My dad asked us to put our skis out like kind of Rockettes kicks, and pose on top of the mountain. Everyone's getting off the lift and looking at you. I was about 13 or 14, so I'm right in that age group where I'm like, this is so cringey," he says.
When he went back to his parents' house years later, he saw that his mom had framed the Rockettes-style ski trip photo. "That gave me the idea of—what an interesting idea to memorialize, in some ways, our most embarrassing or uncomfortable photos—the ones that we normally would hide. What if we put those out front, and said, Okay, you think your family's awkward? Look what mine made me do."
When I look at AFP classics like "American Gothic" or "Punks in Space," I feel an odd nostalgia—beyond the inherent dated quality, there's a distinct feeling that I've seen these before. But like many of the images on the internet, I never knew the context behind them, until now.
Take, for example: "American Gothic," first published on the Awkward Family Photos website in 2013, in which four girls pose on the beach, three in bikinis and one in full-on goth apparel and makeup, chunky shoes and all. The "Where Are They Now?" story is as fascinating as the photo itself. Per Awkward Family Photos: "My name is Darsa. I'm the goth and this photo was taken in Gainesville, Florida in 2003 with my fellow triplets and our baby sister with her beloved bucket. I may have dressed and looked differently than my sisters, but they always were by my side growing up and they helped me become the person I am today: a college physics professor, a consultant for NASA, and a cosplay Star Trek Borg."
In "The Space Between," posted on the site in 2010, a young boy sits separately from his family on a stool in the corner, while his sister stands triumphantly by their parents' sides. As part of the NFT collection, the sister, Yuriko, spoke about what was going on behind the scenes: "The reason for the smirk on my face? It's quite simple: I loved torturing my little brother (like any good older sister) and this was one of those days where we were fighting and he had to be separated out of reach from my fists. Lucky for me I got to stay next to my parents while my brother was ordered to sit on a footstool in the corner. It made for a charming and true to life family portrait."
These photos are artifacts of American family life. In a very real sense, they're art; there's even a traveling exhibition that's been running for over seven years, currently at the Haggin Museum in California.
Bender says the decision to turn these photos into digital NFT art was made with the families in mind: "What better way to celebrate our anniversary than to give back to the people that made this whole thing possible? For us, we always have seen this whole thing as a community. We just wouldn't have done it without the families being involved. Ninety percent of the fun is going on this ride with them."
When I tell him about my old fear of internet notoriety, he understands. "I think that idea of reclaiming the photo is really empowering for these families. For years they've seen their photo kind of appear everywhere. There's a sense of, you're so not in control of that ride," Bender says. Now, as Awkward Family Photos moves into another mysterious territory of the internet much like the era of the web back in 2009, there's a new excitement. Bender says that perhaps, for the families, there's a shared sentiment: "I'm controlling the rollercoaster for the first time."
This content is created and maintained by a third party, and imported onto this page to help users provide their email addresses. You may be able to find more information about this and similar content at piano.io